Roadmap
We've Got Big Plans
Our Beta is just the start of optimizing your project management. View below to see upcoming features to InScope.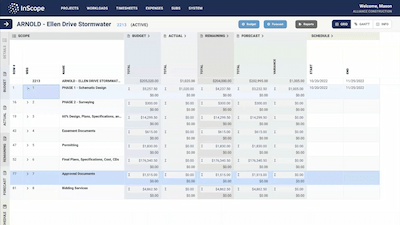 Features Coming Soon
To-Dos Project Summary and Broadcast Tool
Who doesn't love a good to-do list? To-Dos are just that, a means of logging the quick and easy list of To-Dos associated with any part of the project work. Set To-Do reminders to set a meeting with that prospect client, to prepare that permit application, and to follow-up on that action item from your last meeting. An upcoming To-Do enhancement will allow admins to create, apply, and manage To-Dos across projects and scopes. Through a dedicated UI, admins will be able to create a To-Do and then set parameters on which projects or scopes are assigned the To-Do. To-do's made easy!
Budget & Cash Flow Sockets
It's amazing to be able to see all your projects, their budgets, and how much remains or is forecasted to remain, in one screen, but we understand these values occur in the context of time. Similar to Workloads, Budget & Cash Flow tools will allow you to view, stretch, and squeeze your project finances across their scope-associated time spans. Although our current recommended workaround is to use time-based Tags, with Budget & Cash Flows, you'll easily be able to gain even more unrestrained insight into your business and its projects within the time frames you choose.
Calendar Timesheet
Calendar appointments set the stage for much of your work; therefore, you want to easily align your calendar to your timesheet. With InScope's Calendar Timesheet, you can enter your time the way you build your calendar. Simply click and drag a block of time, then associate that block to a Project, Scope, Category, and other details. The Calendar Timesheet provides a more visual experience to tracking your chargeable time and makes time entry fast and easy while justifying the work you invoice to your clients.
Invoicing
Want to generate invoices to your clients directly from InScope? With InScope Invoicing, you'll be able to do just that. InScope will track the costs you choose to invoice and give you full control over when and how your clients receive the information. Simply set your accounting team to receive copies, or integrate your accounting software, for receivables purposes and let InScope do the rest.
Open API
We know it takes a variety of software platforms to operate a modern company. The InScope API will give you endless possibilities to synchronize your project data across a variety of platforms such as Oracle, PowerBI, Deltek, BQE, and more. Partner with our expert developers, or use your own, to build the automations that save you time and money, or the reporting that drives your decisions.
Formula-Based Rate Tables
We recognize not all client contracts are the same so not every billable hour or expense fits neatly into a single billable rate. That's why we're designing the InScope Formula-Based Rate Tables to allow you to create custom formulas which build on your Company-defined base-level costs. You'll be able to take any Category of employee and define the calculation that uses the employee's base pay rate to arrive at the agreed upon client parameters and rates.
Custom Tabs & Fields
Love InScope, but need a few extra fields or groups of fields? The InScope Custom Tabs & Fields will give you the flexibility you need to capture the data critical to your organization on any InScope record type. And, oh yes, whatever custom inputs you define are fully accessible in the InScope Reports Builder.
Scopes & To-Dos Kanban
Lists are great, but many of us are more visual organizers. The revolutionary InScope Time-Kanban offers a way to visualize and organize your work like never before. With the Time-Kanban, you'll be able to control the progress of your Scope Elements and To-Do Items while seeing how they stack up (literally) within your plan of execution.
Successor Buffers
Projects don't always go as planned. There's an understatement! At InScope we agree, so we're developing a nice little shock-absorbing tool (so you're not the one shocked) in the form of Successor "Buffers". Scope Elements linked in the Gantt as Predecessors to a Scope Element of Type = "Buffer" will automatically:
For Schedule, consume that Buffer's Duration, for Schedule adjustments beyond the Buffer Baseline Start and report the % consumed against the Buffer Baseline Finish (Start and Finish are stored upon the first Predecessor completion over 0%).
For Cost, consume that Buffer's Forecast, for Forecast adjustments beyond the Buffer Baseline Floor and report the % consumed against the Buffer Baseline Ceiling (Floor and Ceiling are stored upon the first Predecessor completion over 0%).
Biz Dev
The InScope Biz Dev suite is the ultimate culmination of the work you do and the work you win! The project work you and your teams do day-in and day-out, and the experience gained, is your greatest asset to winning the next project. So why isn't it easy to aggregate and organize this data for the proposal that wins the next project? We've said "Not on our watch!!" In-Scope Biz Dev allows you to easily gather and organize:
The Pursuits and their rankings which provide your company's biggest "bang for the buck"
Project and Scope Descriptions with key words that match the proposal(s) you're preparing
Employee work activities and experience that feeds their company resumes
Current and future workloads that communicate your team's availability
And so much more!!!
Program-Based Scope Access/Permissions
A powerful aspect of InScope is the assignment of Programs at the scope-level, rather than just the Project. Because InScope already allows the control of Project access by Program, we think this should extend to Scopes, just like the Program assignment. If you have certain Scope Elements on Projects where you need to restrict access, this feature's for you. Program-Based Scope Access will provide a list of all employees/users on the System: Programs: Edit Program screen. Boolean fields to the right of each employee/user will control their ability to access the Scope Elements associated to the Program from the Projects Overview and Project workspaces (note: this setting doesn't control chargeability from Timesheets or Expenses - those are separate Personnel controls). The "All Users" option provides no restrictions.
And More!
Reports/Dashboards Builder
Enhanced Copy/Paste
Pre- & Post-Activation Hours/Costs Tracking
Enhanced Workforce Reporting
Photo Galleries
Enhanced Undo/Redo
Custom Coloring