Simple Operations.
Complete Insight.
WithInScope.
Gone are the days of managing Project Scopes, Finances, Resources, and Schedules in isolation.
Built by project experts needing easy yet comprehensive project management software. From Pursuit to Complete, InScope provides fundamental project management tools and nimble data visibility within an innovative and affordable platform.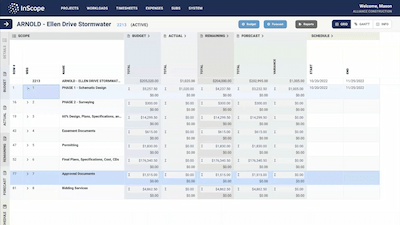 No more isolation. A revolutionary way to manage comprehensive project data.
Because InScope was founded by long-time Program & Project Management Professionals, Project Management is at the heart of InScope.
We know Project Management doesn't happen in isolation. Scopes, Resources, Finances, Schedules are all interrelated and these relationships need to be easy to view and navigate.
A "one-click" experience to fast, responsive data creation and modification of Project Backgrounds, Scopes, Resources, Finances, and Schedules.
Instantaneously reflected data updates or forecasts from contributing project tools such as Workloads, Timesheets, Expense Exports, and more.
Horizontally expandable and collapsible "Grid Sockets" allowing a matrix-based, drilldown into more detailed information within a Scope-centric context.
A consistent Socket-based financial model providing Project Managers insight into Budget (what was budgeted), Actual (what is spent), Remaining (what remains), and Forecast (what's forecasted to remain) – no custom reports needed.
Easy to set up Company-level settings, such as Client-Contact details or Personnel-Expense-Equipment Rate Tables, which connect to, but may also be customized for, individual Projects.
A resource grid like your spreadsheets - Scope stacked vertical, Resources listed horizontal, and allocations in the middle, gives you management tools faster than any other software on the market!
Do more with less complexity when managing projects.
Fundamental Project Management should be much easier than most platforms make it. It's a basic formula that equals Scope + Cost + Time + Resources. Why use software that artificially-processes, posts, pokes, prods, peels your project data when all you want is to see it, control it, connect it, and go.
Benefits that enable professionals to maximize project efficiency.
Designed by project professionals who understand your project challenges. Align everyone on your team and equip them with the easiest PM tool in order to accelerate your project outcomes.
Intuitive Navigation
The most important menus and views at-a-click. Other platforms ISOLATE data and functions into modules, requiring constant re-navigation. What should be two clicks needlessly amounts to eight in most platforms. With InScope, just pop to your scope of work, or your project personnel table, or your schedule – easy, simple, intuitive.
Modern Desktop Experience (MDX)
The modern desktop has more screens or more screen space than ever before. We couldn't wait for project software to catch up! Like every spreadsheet you've ever made, InScope is designed to span your ENTIRE modern desktop. And with its innovative "Socket" approach, you can span and expand to just the right data, just the way you want to see it.
Financial Framework Based
Project Finances should not be complicated. InScope standardizes a simple, yet innovative financial model embedded directly into the interface for consistent project monitoring. But don't just monitor, use the InScope Forecast Socket to predict outcomes! No more messages to accounting (we're sure you're disappointed).
Real-time Data Associations
Virtually every platform claims to be "real-time", but the experience falls short when you find out they require custom automations and manual selections. Only InScope delivers a, well "real", real-time relationship between Scope, Resources, Finances, and Schedules. Try it out! Hop into a Free Trial, change one of these, and marvel at the results!
Priced for Scale
We were frustrated with the lack of affordable and effective project software for small businesses. It seems only expensive, overkill or cheaper, spend-hours-customizing software are available for your basic time-for-money business. If you're looking for affordable software already set to run your time-for-money projects, look no further. There had to be a better way so we made one!
Continuous Delivery & Updates
At InScope, we promise a relentless pursuit of solving problems: providing products and features which give full and easy insight into programs and projects, in one tool, with the fewest navigations, and fewest clicks. Check out our Roadmap and see for yourself! And when you need help, you're going to hear from a real person, not an automated email, not a chat bot, but a real flesh and blood human on the other end of your message.
What Our Clients Say